HOME STAGING – WHAT IS IT?
Staging is the process of preparing a house to sell so that it appeals to a broad range of the target market thus bringing in more potential buyers, receiving more offers and selling faster. In a 2021 survey of 4,600 properties, homes that were staged sold approximately 9 days faster than the average Days on Market. The average staging investment of the staged homes, of 1.3% of the list price, resulted in a 7.1% over-list price return on investment (Real Estate Staging Association).
WHICH HOUSES SHOULD BE STAGED?
Ideally ALL houses should have some amount of staging, even professionally decorated houses. Decorating is very taste-specific and that is the way it should be when YOU are living in the house. When listing your house for sale the focus should be on creating a space that will appeal to as many buyers as possible, and allow them to visualize themselves living there. Part of that is de-personalization. Personal photos, any framed documents with your name on them (diplomas, etc) should come down and be replaced with other artwork. Anything that is potentially offensive should of course be removed, and spaces should be de-cluttered. Especially for photography, you only want to leave out items that will enhance the appeal of the home. You also want to ensure that there are not so many items that it distracts from the home itself when viewing the photos, or confuses the potential buyers as to what they are seeing. I've seen many photos of real estate listings over the years that have had me puzzling out what exactly it is that I'm seeing. That's not the reaction you want. You're looking for "Wow! I want to live there!".
Vacant homes often see the most benefit from staging. Without any furnishings buyers may not be able to visualize what the space should be used for, especially in photos. They may also feel the home looks cold and uninviting. You can use professional home staging services which will provide furniture, décor, etc, or there are services available where furniture can be rented as well for DIY staging. If your sale budget is tight, I can offer assistance and advice with staging, and often provide some small décor pieces as needed, but a professional stager will have access to a much larger inventory, and have much more experience in really perfecting the space for maximum appeal.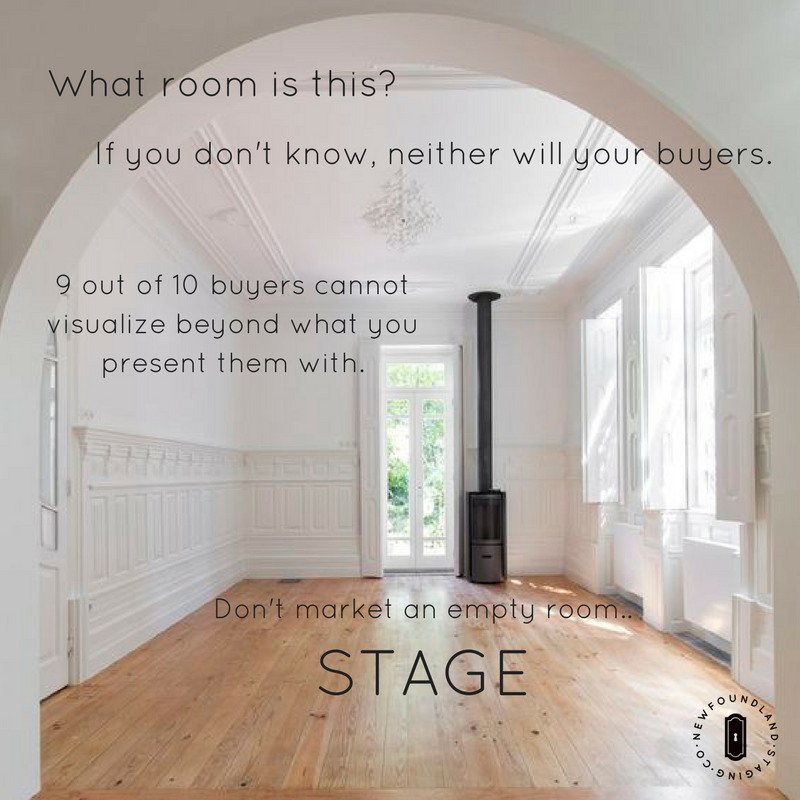 WHAT'S INVOLVED IN THE PROCESS?
The first step is a consultation with a stager and/or REALTOR® to see what needs to be done, and where your time and efforts are best spent. Staging includes an array of preparations for market, from basic repairs to painting, de-cluttering and de-personalization, to bringing in furniture and décor, and more. It might mean fully furnishing selected rooms in a vacant house, or it might mean renting a storage locker and removing items from an occupied home. It will be different for every seller based on their individual home.
Regardless of what's required, staging is best done before listing, and before listing photography takes place. You only get one chance to make a first impression, and you are most likely to generate multiple offers on a properly staged property that is brand-new to the market. Most real estate buyers base the decision to view a property largely on the listing photography, so having the home properly staged and getting high-quality professional photography are two of the most critical things you can do to ensure a quick sale at the highest possible price.
WHAT ABOUT VIRTUAL STAGING?
Technology has come a long way in recent years, and there are many stagers and photographers who can "virtually stage" a property. That is, insert furniture, artwork, etc into the listing photos to show how it would potentially look with those furnishings. They can even change wall colours and remove flaws, but there is a limit to how much can ethically be done before you're into the realm of false advertising.
Different people have different opinions on virtual staging. The advantage is that when staging a vacant house, virtual staging can save time and money over traditional staging. However, the photos can sometimes look obviously fake, and the main disadvantage is the disappointment from the buyers when they view the home in person and it does not look like the photos. My personal opinion is that it's best to avoid virtual staging in favour of traditional staging, or even just vacant photography. Again, you only get one chance to make a first impression. And if that first impression is disappointment when the buyer walks in the door, it's hard to recover from that. I've done showings on virtually staged homes where the buyer spent the entire viewing talking about how disappointed they were that it really didn't look like the photos. There really was nothing wrong with most of the houses, and the photos only added furnishings, and did not distort any of the homes other features. However, it was impossible to recover from that first impression. Maximum accuracy in advertising will avoid disappointment, and attract the right buyers who will want the home as it is, not as it is digitally.   
I truly believe that home staging is a valuable tool to maximize your return on investment. Unless you are absolutely unable to do so, I would recommend every seller do some level of home staging prior to listing.