HOW MUCH IS MY HOUSE WORTH?
Are you wondering what your house is worth? As you probably know, you can call a REALTOR® and have them come to your home and do a Competitive Market Analysis (CMA) to estimate the current market value of your home. This service is almost always free and there is no obligation to list your home for sale.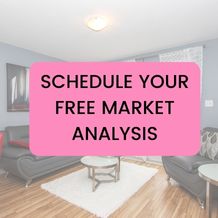 There are also many agents offering an instant online market analysis. You may wonder why I don't offer such a service. This is because each home varies so much in terms of style, condition, layout, etc, that I don't believe it's possible to determine the price accurately without seeing the property in person. I put a lot of time and research into my pricing process in order to give you the most accurate price possible. If you are considering selling your home you need the absolute best possible information to guide your decision-making process.
If you are thinking of selling and want to know the value of your home, contact me, I will perform a CMA, and if you are interested I will also explain to you how I would market your home if I were to list it for sale. With the No Pushing promise you can rest easy. I won't hound you, I won't push you, I won't call you to convince you to sell. I will leave my information with you, and if you decide you wish to sell you can contact me. No Pushing.
Why start with a CMA? The first reason is obvious; the decision to sell your home often depends a lot on its value. Is it worth enough for you to move up to that new home you've been eyeing, or do you need to stay a bit longer and save up a little more money?
The second reason is that pricing your home properly is one of the most important steps in selling it. If you price it too low you could be missing out on thousands of dollars in your pocket, but if you price it too high buyers will not be interested, and your house will not sell. Even if you later drop your price it is hard to reproduce the initial flurry of interest that a newly listed properly generates. By the time buyers see it at the new price, it's "stale" to them, and they wonder if the price was dropped because there is something wrong with the home.
The CMA process looks at what similar houses in your area have sold for recently, the price of houses currently list for sale (your competition), and the asking price of houses that failed to sell. This tells you what buyers are actually willing to pay for a property, what they could pay for similar properties right now, and what they are not willing to pay. Based on this analysis, and taking into account any advantages or disadvantages your home may have relative to these comparable homes, I will provide you with a suggested listing price to maximize the price you get for your home while ensuring it will appeal to buyers. The key point to keep in mind is that buyers are comparison shoppers. If your home is over-priced you will actually be helping to sell your neighbours' homes, because buyers will compare the two and then the other homes will look like great bargains by comparison.
With all that in mind, you're the boss, and it's your home and your money. If you decide you'd like to list your house for a higher price than I have recommended (within reason), I will still be happy to work with you and apply all my expertise to help you achieve that price. However, if a quick sale is very important to you and you prefer to list your house at a lower price to make it more competitive, I will do that for you as well. My job is to supply you with the information you need to make an informed decision. The decision however is 100% yours.
If you are thinking of selling your home in the greater St. John's Metro Area (St. John's, Mount Pearl, Paradise, Conception Bay South, Portugal-Cove St. Phillip's, Petty Harbour-Maddox Cove, Logy Bay – Middle Cove – Outer Cove, Torbay, Pouch Cove, Bauline, etc) or within approximately 100km of St. John's, and want to know the market value, call me, Allison Hull, Hanlon Realty, today at 709-351-2685, email allison@nopushing.com, or schedule your free no-obligation market analysis, here.